Resilience and determination, alongside her business acumen and desire to create meaningful change, are all things that characterize Nadine Renaud-Tinker.

The President of RBC Royal Bank in Quebec has been a long-time supporter of the Cancer Research Society, particularly since 2017 through her involvement as part of the direction of the Society's signature Urban BBQ event.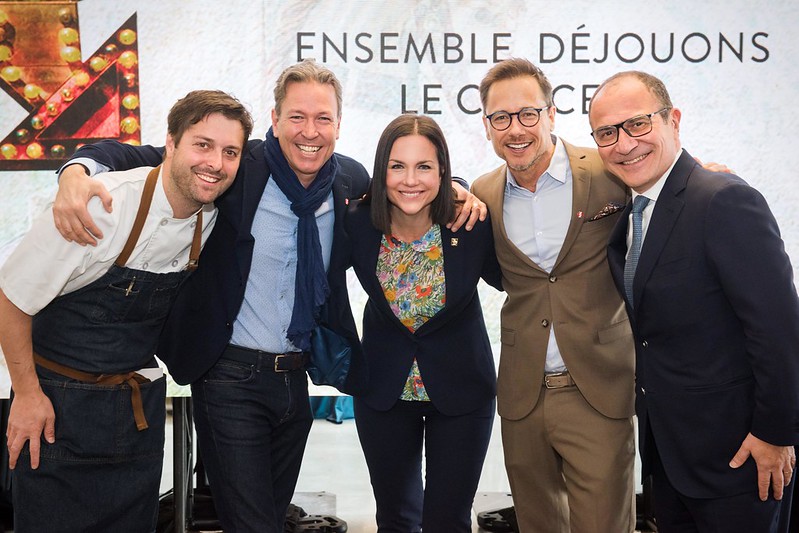 Although she is now responsible for over 7,000 employees throughout Quebec, Nadine started her professional life in a more humble position. Her career at RBC began in 1997 when working part-time as a customer service representative to fund her way through a degree in psychology. Despite having tried almost every possible role in the branch, she's always had a soft spot for positions that allow her to contribute to her clients' successes and her teams' development. It's also what motivates her to get very involved in all numerous causes, both personally and professionally, beyond business.

"In my position, it's important to lead by example. I don't think we get as involved in causes that are meaningful to us without having a personal reason behind it. Even as a young individual, I was already inquisitive in nature and interested in anything that affected other humans."

One in two Canadians will receive a cancer diagnosis in their lifetime, and Nadine is no stranger to the terrible effects this disease can have on the lives of those around us. Although she's never suffered from cancer herself, she has numerous friends, colleagues and family members who've suffered through it.

"When I look at both my mum and my dad's sides of the family, many have had cancer. Some succumbed to the disease, and others survived. It's hard to see the suffering of those going through those trials. We're there supporting our loved ones, but, unfortunately, we also feel very helpless. That feeling stays with me and pushes me to help as much as possible, whenever possible."

Her own experiences with loss, particularly with close friends and family members who have had cancer, have only helped fuel her resolve to get involved and further support cancer research.

"We can't stay insensitive to this situation. I know that together we can change things by focusing on research, in particular, to find solutions to cancer in the upcoming years. Seeing the breakthroughs made possible in recent years only makes me believe that even more. Anything is possible!"

Not all heroes wear capes, and some, like Nadine, support cancer research through their professional circles. During the 2020 Read for the Cure Vancouver event, RBC employees personally delivered the book sets to participants while maintaining proper social distancing.


"I personally believe that when we get involved, we can make a difference, individually or as a team. At RBC, helping people and families in need is part of our values. Our Quebec employees are very present, even virtually, and make a real difference in their communities. Beyond business as usual, they offer up their time and open their hearts to those in need of a helping hand. Even little gestures make a huge difference. Together, thanks to your donations and your engagement, we'll be able to create change and build a better future."

Everyday Cancer Heroes are all around us, including researchers who are endlessly working to continue improving the prevention, detection and treatment of cancer. They include donors who contribute monthly to funding vital cancer research. They are also, of course, those who are resiliently fighting the disease daily.

"Congratulations on your courage, you're so inspiring to all of us. Continue sharing your stories because they give us the power to continue helping you and to be there for you. You are our heroes."