"Remember, in helping the fight against cancer, you are battling the common enemy." — Betty Caplan, first President and Founder of the Cancer Research Society
In 1945, 12 friends came together with a resolution: that they would do what they could to help conquer cancer. Meeting quietly, then in one another's homes, they determined that the best way to contribute was to raise money for cancer research. Every single one of these friends had been personally touched by cancer or seen the devastating effects of the disease on their families and loved ones. These friends were led by Betty Caplan, who had lost her mother to cancer. Together, they founded the Cancer Research Society.
Under Betty's leadership, the Cancer Research Society thrived. At its outset, the Society was a membership organization, with members from across Quebec paying annual dues of just $2.00. Through the fundraising efforts of the Society's members, the Cancer Research Society was able to award four research grants of $600 each (valued at approximately $35,686 in 2020) less than one year after its founding. From there, the Society's success, and its impact, grew significantly.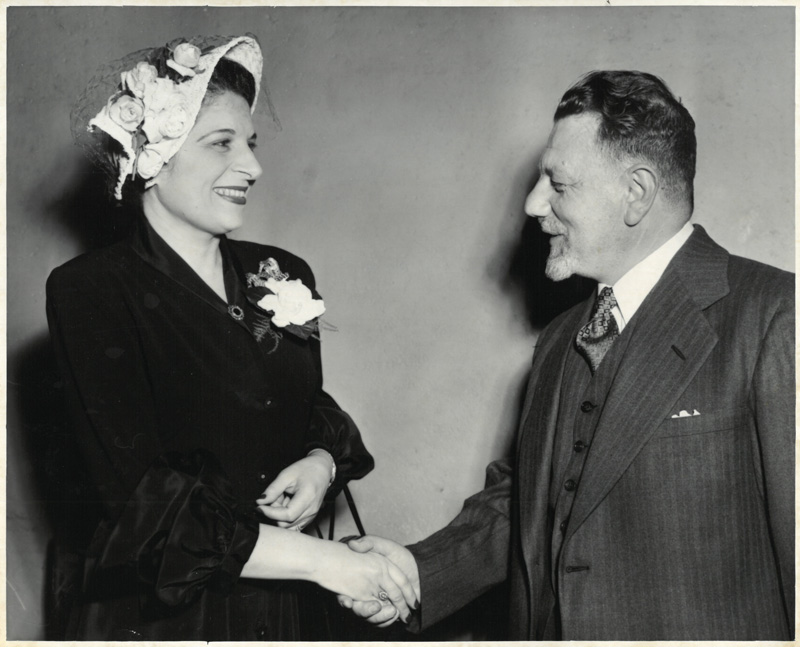 The mission of Betty Caplan and her friends — to discover a way to conquer cancer by granting bursaries and fellowships to deserving scientists — very quickly caught the attention of respected medical practitioners. They formed the Cancer Research Society's first Medical Advisory Board, the group of doctors responsible for choosing the researchers to whom bursaries and grants would be awarded.
By 1948, three years after the Cancer Research Society's founding, there were over 100 member units – each involved in creative fundraising endeavours, from Money Showers to dances, galas, Card Parties, and even fashion shows. Through this dedication, $39,500 (valued at approximately $482,500 in 2020) had been granted in bursaries to support cancer research projects led by the Royal Victoria Hospital, McGill University, and Université de Montréal, to name a few.
But the motivation of Betty Caplan and her friends didn't end there. Their passion for the cause helped rally celebrities, artists, and athletes like Danny Kaye, Ellen Ballon, and the Montreal Royals, all of whom participated in charity events to raise money for cancer research.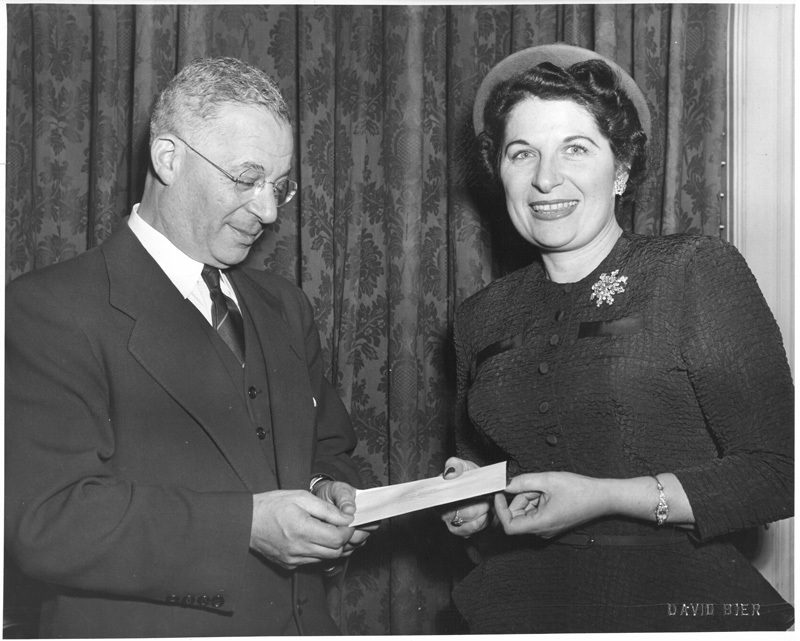 Years later, when asked about what made her mother's success possible, Betty Caplan's daughter, Karen Altfest noted:

"My mother was in her 20s when she started the Society. In your 20s you don't sit around and think, 'well, can I give a public speech?' or 'can I raise money?' You just do it, so it's partly that and partly determination. My mother was always determined about everything, so she was determined to see it through."
Betty Caplan served as President of the Cancer Research Society from its founding in 1945 for nearly 10 years until 1954. In that time, she began a movement that united the people around her in the common goal to outsmart cancer. Her efforts meant that countless research projects were funded, unlocking breakthroughs that have advanced the prevention, detection, and treatment of cancer and saved countless lives today.
In Betty Caplan's 1948 address, she stated:
"I feel that our members have every reason to be proud of our accomplishments. Not only have we given support to cancer research in Quebec, but we have helped make the public conscious of the fact that cancer, to be beaten, must be fought. The way to fight it is through research."
Betty Caplan's belief that research is our best hope to outsmart cancer is the cornerstone of the Cancer Research Society's mission. Today, Betty Caplan is remembered as a visionary who changed everything for cancer research in Canada. In 1974, she was recognized for her immense impact with the prestigious Outstanding Citizen Award from the city of Montreal.